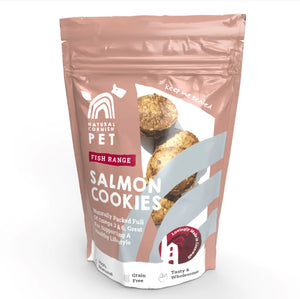 Salmon & Potato Cookies
Sale price Price £4.50 Regular price
Tax included.
Shipping
calculated at checkout.
Whitefish & Potato Cookies make a great wholesome treat, or on-the-go snack; the perfect addition to a raw diet!
Benefits
- 100% natural, grain free.
- The fatty acids found in fish are perfect for providing moisture to skin and coats, helping to reduce itchy skin and boost overall health, with less shedding and more shine!
- Fish is low in saturated fat, but high in protein, great for controlling weight and perfect for elderly dogs. 
- Rich in Omega 3 & 6, which are naturally found in canine digestive systems - adding these oils to your pooches diet can have amazing benefits,       including: aiding in brain development, helping focus, memory and behaviour and even boosting your dog's immune system!
- Not only will pooches love the taste of these cookies, they are also highly digestible, reducing the work needed by your dog's digestive system compared to many protein-rich meats.
- These cookies are lovingly made in Cornwall with sustainably sourced fish.
- With a rich, crunchy texture that dogs love, these cookies are sure to keep your four legged friends happy!
Ingredients
Whitefish 90%, Potato 10%
Analytical Constituents
Moisture 1.8%, Fat 31.8%, Protein 28.9%, Ash 11.5% Fibre 3.9%
75g Pouch