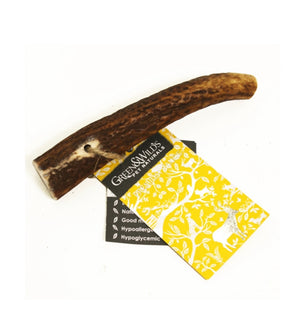 Original Antler Chew
Sale price Price £7.95 Regular price
Tax included.
Shipping
calculated at checkout.
These chews contain a number of good minerals and they are incredibly hard and long lasting.  Your dog will find them exciting and irresistible.  This is a totally natural product, free from additive or preservatives, its hypoallergenic, just pure and natural!
All these premium antler chews are from Grade A and AA,  Red Deer antler.  Naturally shed, responsibly sourced, traceable and sustainable, many from the highlands of Scotland.
The antlers are hand washed in pure water, hand cut, hand sanded to smooth all the edges.  Then every chew is hand checked for quality and labelled, all here in the UK.
Healthy, unprocessed, nutritious, long-lasting chews for dogs of all shapes and sizes, finest quality......not all after chews are the same!
The extra small size is perfect for puppies and small breeds, it uses the antler tip which is the most nutritious part of the antler.  Full of flavour and small in size so perfect for teething puppies to gnaw on.
The tough large size are super hard, super tough, cut from the toughest antler. They are handpicked from the heaviest, toughest deer antler you can get, they are then cut and prepared from the toughest part, the pedicle.  A solid block of tough antler chew for big strong chewers such as Staffordshire bull terriers, Irish wolf hounds, and German shepherds.  There has been great feedback on how long these last compared to other chews.  Weeks and most probably months, great value for you and your dog!
Antler has some unique and proven benefits
- High in natural minerals and nutrients
- Helps improve circulation and metabolism, reduces cholesterol
- Strengthens bone structure, muscles and joints
- Maintains healthy cells, aids the immune system
- Helps prevent inflammation from arthritic conditions
- Made from Grade A Antlers that are naturally shed each year, from free ranging deer that live natural lives.  No deer are ever harmed
- Low odour, no stains and lasts for ages
This is a natural product so the antlers will vary in size and shape.
Extra small (puppy) - 35g +
Small - 50g +
Medium - 75g +
Large - 150g +
Extra large - 225g +
Tough large - 290 - 350g