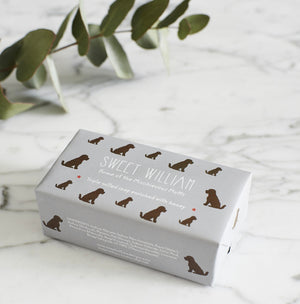 Dog Walkers revival - Soap
Sale price Price £5.50 Regular price
Tax included.
Shipping
calculated at checkout.
Dog walkers revival range
Down muddy tracks and up steep hills, through thunderstorms, hailstones, frost and fog we never deny them their daily walk.
Armed with poo bags to pick up the inevitable and the  "don't roll in that" despair, we chase our tails to keep up with theirs.
There isn't anything we wouldn't do for our four legged friends but their comes a time when the one to pamper must be you!
This fabulous dog walkers range includes all the must have luxuries to revive you after the daily dog walk!
Soap
The dog walkers revival hand made soap is triple milled and enriched with honey. 
The perfect gift for the dog walker in the family.  We even have breed specific soaps!
Made in England.
Absolutely never, ever, tested on animals.  Strictly for humans and not our four legged friends.
Natural ingredients - No SLS - No parabens
200g / 7 oz