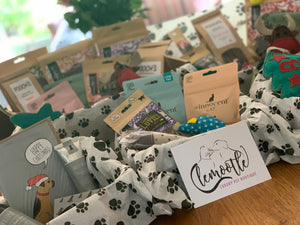 Clemootle Treat Boxes
Sale price Price £45.00 Regular price
Tax included.
Shipping
calculated at checkout.
Beautifully presented boxes, bursting with natural, eco friendly products for your dogs, cats and even humans! Pet lovers need treats too!  

We have spent so much time researching the very best quality products and thought putting together a surprise box for you would be fun!
We have recently started working with a company that produces RAW treats, they are 100% meat, air dried and ethically sourced.
If you would like a specific toy/treat/product in your box rather than what we choose, then please add a note in the comments box.  Also if you have any special requirements, such as gluten or grain free, or would prefer more treats than toys, then again please add a note for us and we will do our very best to accommodate you and your pet!
If you buy anything extra that you would like to be packed in the box please note this in comments too so that we can ensure it is put together for you.
We can make these up as monthly boxes so repeat orderers let us know and we can make sure you have a different selection every month.
Perfect gifts for Birthdays and Christmas or just because!!
Boxes available are -
Deluxe Dog      - 8 packs of treats and 3 toys     £45.00.   Value £65 save £20!!
Standard Dog - 5 packs of treats and 2 toys      £35.00.    Value £50 save £15!! 
Small Dog        - 3 packs of treats and 2 toys      £25.00.    Value £35 save £10!!
Puppy   - 4 packs of treats, 2 toys and 1 antler    £35.00.   Value £50 save £15!!

Cat         - 3 packs of treats and 2 catnip toys       £20.00.   Value £28 save £8!!
Human   - Bath foam, Hand cream, Foot cream, Soap, gorgeous natural UK made      

               products, Dog breed Xmas/Birthday card  £30.00. Value £50 save £20!!
                  (please note in comments the dog breed card you would like)