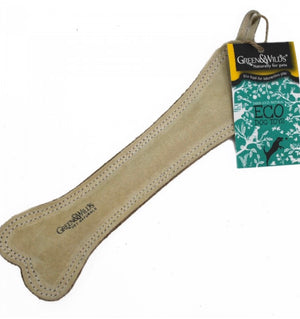 Bone Buddy (Eco dog toy)
Sale price Price £6.95 Regular price
Tax included.
Shipping
calculated at checkout.
The Bone Buddy is made from 4 layers of jute twin stitched over recycled cotton and jute rope, and then covered in a soft suede.  Stylish toy for you and your dog for throwing and tugging with hours of fun had by all.
The toy is made from sustainable jute which is a natural plant fibre.  It is tough and long lasting, and is produced with out using any added compound that would harm or be released when chewed.  Jute is 100% biodegradable, the suede is a by-product and ensures this material is not wasted. 
The Bone Buddy measures 26cm long x 7cm wide at it's widest point.
This product is a play toy only and not a food product.  Pets should always be supervised when playing with toys.  Remove if your dog tries to swallow pieces or chunks.  NO TOY IS INDESTRUCTIBLE!